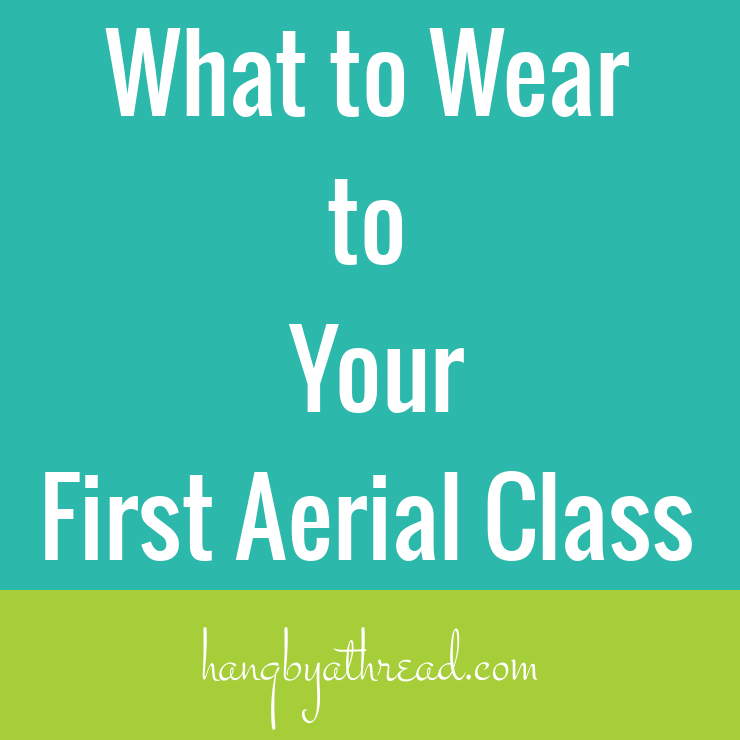 Wondering what to wear to your first aerial class? This is one of the things we're asked about the most when people call our studio about classes. Aerial dance is a different kind of fitness and has some special considerations. If you come from a dance or gymnastics background, you probably have a good idea of what to wear. But if not, here are some specifics to consider before you suit up.
Wear a form-fitting, longish shirt.
I almost always wear a wifebeater style tanktop to class. (Actually, that's usually what you'll find me in, airborne or not.) If you have one that's a little longer than waist-length, that's probably best. You'll probably be going upside down, and if your shirt hanging around your bra makes you uncomfortable, you'll want to be able to tuck it in.
Longer shirts are also very helpful to protect the skin on your lower back. The silks love to sneak some burns in there when they can.
I don't recommend tshirts. They fit loosely which is easy for the silks to eat, and they fall over faces or expose stomachs when you go upside down, which often makes beginners even more uncomfortable as they're trying to learn.
Removable sleeves.
While I mostly love tanktops, I also strongly recommend bringing something you can take on and off that has sleeves. A close-fitting, long sleeve shirt is good, or a sweatshirt without zippers. Especially in silks, there are a lot of moves where the posts will be under your arms. Armpit burns are zero fun (try putting on a shirt the next day and you'll never forget sleeves again!).
Wear leggings or tights.
Cover your legs! Running shorts are not the best choice. The loose fit will work against you as you give everyone a view of things you probably don't want on display. Yoga pants are your friend. If you want to wear shorts, get ones that are form fitting and comfortably hug your thighs. Layer them over footless tights. Or just cut the feet off of your tights. We ain't fancy.
This goes for the guys too. If you're uncomfortable with tights, get runners leggings and wear basketball shorts over them.
Make sure your pants aren't see through.
While we're talking pants, make sure yours aren't see through. They may look fine while you're standing upright, but what about when you're bent over and the fabric is strained? Can you make out the pink polka dotted lace on your underwear? Rock that underwear proudly because you'll also be showing everyone else in your class. Or you can get better pants.
Make sure your sports bra covers you upside down, too.
You're going upside down. Make sure your girls are going to stay tucked in.
No thongs!
Well, maybe thongs. This is personal preference. But why?? I've made the mistake a couple of times of wearing this most uncomfortable of garments to class, and I have regretted it. You are going to get super intimate with your apparatus. That trapeze bar or lyra will be all up in your crotch, and those silks will be catching you in a diaper wrap. A small fabric strip makes it worse. So much worse.
Pull your hair back.
It's going to be in your way. It's going to be in your teacher's way as they try to help you on the trapeze. It even gets tangled in the silks sometimes. Get it up and get it back.
No zippers! No rings! No dangling things!
You'll want to take your rings off. They can rip the silk fabric and they will really hurt your fingers on lyra and trapeze.
For earrings, small studs are probably fine, although if you want to play it safe I'd take them off too. But definitely nothing that dangles.
And no zippers. Yoga pants don't fall into this trap, but a lot of general athletic wear will include zippers in the design. Zippers snag silk fabric, which makes the silks unusable. An easy thing to overlook is sweatshirts. I have several zip up hoodies and it's easy to forget to take them off, but they shouldn't be in the air with you.
I recommend MikaWear for pants and bras because they hold up really well, they're super comfortable and they look good (maybe we a little fancy).
Above all, make sure you're comfortable. How can one be comfortable in spandex? Well, you get used to it. Definitely consider these things as you get dressed, but don't freak out. You'll learn what you need as you take more classes and learn what works best in the air.