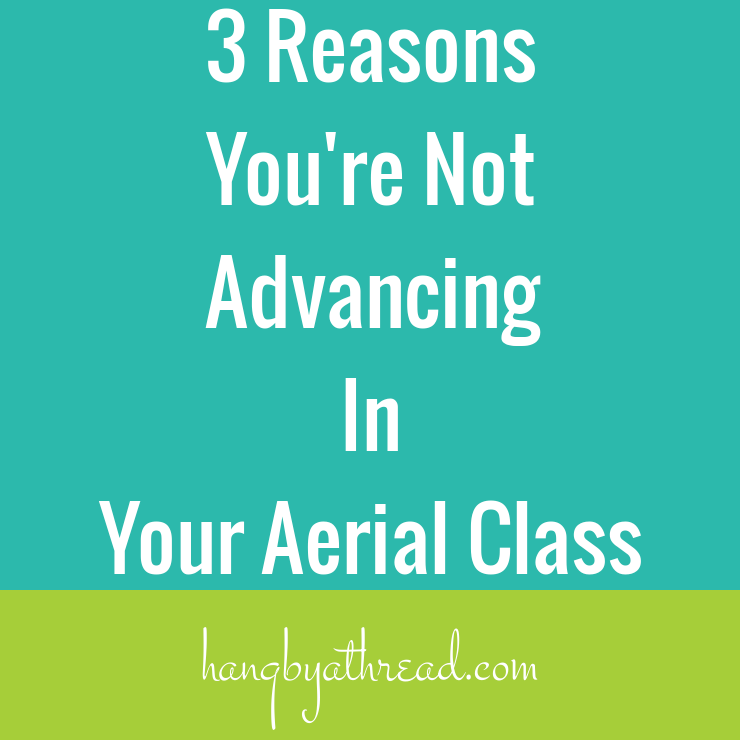 Are you frustrated that you're stuck in level one or two? Do you feel like you've checked off all the tricks in the book for your class, and you aren't sure why you're staying put?
Although every situation is different, there are three big things students often overlook that keep them from getting to the next level in class.
You stop trying after the hard part.
You can do a beautiful inverted split in the ropes. And then you melt back down to the trapeze bar, shoulders gloriously unengaged, back slouched, with a facial expression that screams "Now what?".
You nail a gorgeous stag pose in the silks, only to drop to the floor, foot tangled in your footlock because you couldn't be bothered to take it off the right way.
Finish out your movements. It builds strength (hello, sneaky conditioning!), and it demonstrates that you have control. That's important as you learn more difficult stuff.
You're sloppy getting into and out of the air.
I had a trapeze class who used to get furious because every couple of weeks we would drill getting onto and off of the bar. They really didn't understand the point. They'd do it right a couple of times, then go right back to getting up however the hell they felt like it. Several of them had even expressed interest in being in our performance group!
Do you do this? Do you not see the point of making things look nice if it's not a big silk drop or a pretty spinning lyra pose? Are you just ready to move on to the next level so you can learn harder stuff?
Move on? You should be getting back to the basics. If you're consistently ignoring the basics, the foundation stuff, then you aren't ready for more. You're going to be a danger to yourself with more advanced moves, and your teacher isn't having that.
Not to mention, that looks terrible. For real. Terrible. We don't want to look terrible.
You aren't conditioning.
You knew this was coming.
If you're refusing to condition (or being a bit of a baby about it), don't expect to go anywhere anytime soon. As you advance, you'll be learning things that are more difficult and more dangerous. If you can't do pushups or won't even try to work abs, your teacher probably doesn't feel like you'll be safe going forward.
This is an easy fix though! Just work a little every day. On the ground. Come back to class and start seeing progress.
Every student, every teacher, every class is different. If you still aren't sure why you aren't advancing, go to the source. Ask your teacher what you can do to progress, and then really do those things. And keep in mind, this isn't a race. Everyone progresses at their own pace. Just keep working and know that no matter how far you advance, there will always be more to learn.